Double Chocolate Cocoa Cupcakes
Boomette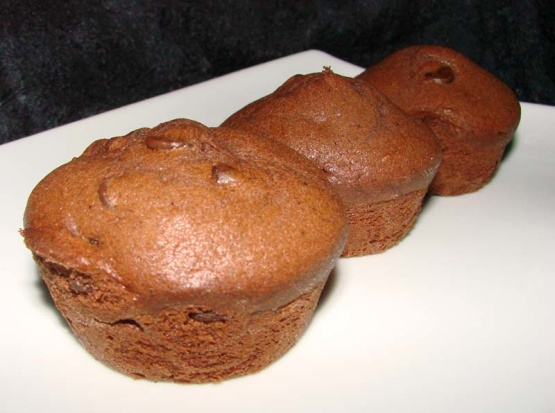 This is a never-fail, moist chocolate cupcake recipe, one that I have been making for years.

I hate giving this a bad review, but this falls on me for not reading the reviews. Those that substituted margarine for the shortening had a different recipe turn out. Shortening makes them greasy and I could not get past that flavor. I even used butter flavored Crisco and I could still taste it. The other ingredients were great and I think if I substitute butter/margarine then this would be a hit, but I needed to review the recipe as written.
Heat oven to 375 degrees.
Line muffin cups with paper.
In a large mixing bowl, beat shortening and sugar until light and fluffy.
Add in eggs and vanilla, beat well.
Sift together flour, cocoa, baking soda and salt.
Add alternately with half and half cream OR milk (if using) to shortening mixture, beating well after each addition.
Stir in mini chocolate chips.
Fill muffin cups 3/4 full with batter.
Bake for 20-25 minutes, or until cupcakes test done.
remove from pans to wire rack and cool completely before icing.