Double Chocolate Chip Banana Cake (Light)
jswinks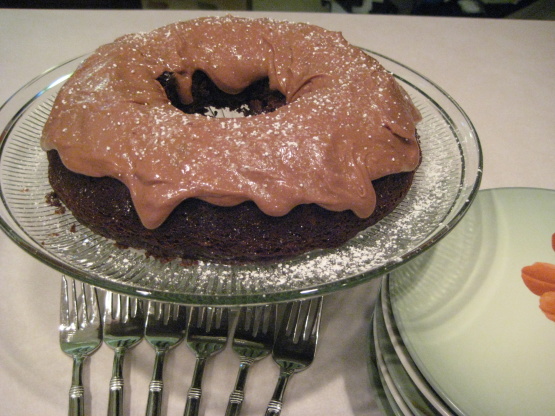 Mmmmmmmmmm! Chocolate never tasted so good... and the best thing is this is a light cake! The secret ingredient is... zucchinis!! If you don't mention it - nobody will know!! If you don't have any zucchinis - you can replace by the same amount of carrots. The chocolate icing is delicious! Another wonderful cake from Rose Reisman.

Very tasty! You hardly taste even the banana....I might add a little more next time. I served mine without the frosting and found it to be just fine w/some powdered sugar. Also, I didn't bother with putting everything in a food processor (didn't have time). It was great just dumped together and mixed w/my mixer!
Preheat the oven to 350°F Spray a 12-cup Bundt pan with vegetable spray.
Make cake: in a food processor, combine brown sugar, granulated sugar, oil, banana, vanilla and eggs; process the mixture until it is smooth. Add zucchini and pineapple; process the mixture just until everything is combined.
In a bowl, stir together flour, cocoa, baking powder and baking soda. Stir the wet ingredients into dry ingredients until they are mixed. Stir in the chocolate chips and sour cream. Spoon the mixture into a prepared pan.
Place the pan in the centre of the oven and bake 40 to 45 minutes or until a tester inserted in the centre comes out clean. Let the pan cool on a wire rack.
Make icing: with an electric mixer or food processor, cream together cream cheese, icing sugar, cocoa and milk. Spread mixture over the cooled cake.