Double Chocolate Cake-Eggless
Dan4370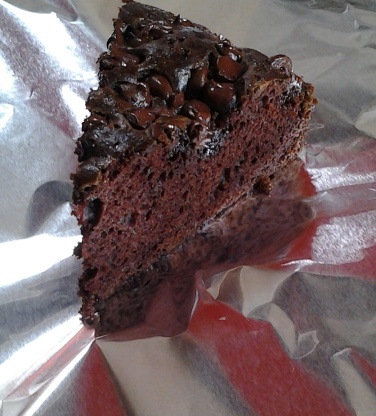 Having two children with egg allergies poses a problem when they have parties at school. I found this recipe and have to say cannot tell it doesn't have eggs!

Verry good recipe! the cake came out really well. I like the idea of having the chocolate chips as a kind of frosting. <br/><br/>I made one modification to the recipe by flavouring the water with some (1tsp) of coffee..it worked well...
Heat oven to 350°. Mix flour, brown sugar, cocoa, baking soda and salt with fork in ungreased square pan, 8x8x2 inches. Or a round pan. Mix in remaining ingredients except chocolate chips. Sprinkle chocolate chips over batter. Bake 35 to 40 minutes or until toothpick inserted in center comes out clean. Sprinkle with powdered sugar if desired.
*Do not use self-rising flour in this recipe.
Note: Cake can be mixed in bowl if desired.