Double Chocolate Brownies
fawn512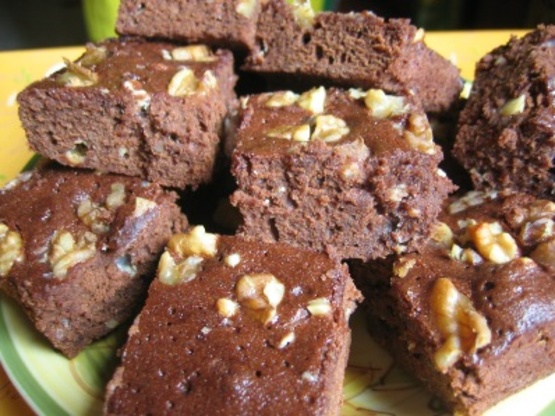 Double chocolate brownies are moist, delicious, and super easy to make! You can expirement by adding nuts, white chocolate chips, or more vanilla to create your own favorite brownies!

Great fudgy style brownie. I doubled the recipe, put in a 13x9 in. pan and added 10 minutes to the baking time. I have never made brownies from scratch before and I was looking for uses for a large can of cocoa powder that I have had. They turned out to be very easy to do and so good that I will never make boxed brownies again. Everyone loved the chocolate chips!
Preheat oven to 325 degrees.
Cream butter, sugar, and vanilla.
Beat in eggs.
Blend in cocoa powder.
Stir in flour.
Add chocolate chips and mix well.
Bake in greased 8x8 inch pan for 30 minutes.
Cool before serving.