Double Chocolate Bakeshop Muffins
alligirl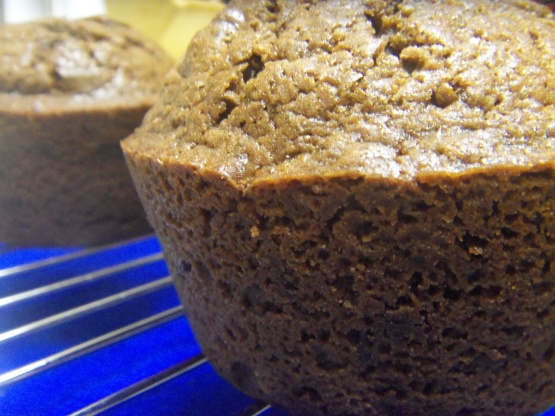 When you have to have chocolate in the morning, these are the perfect fix. The melted butter in the batter helps to make them rich and cake-like in flavor and texture, but they are not cupcake-sweet. If you eat them warm the chocolate chips will be soft and gooey, for double the chocolate pleasure. Perfect with a glass of cold milk or a cup of hot cappuccino. This recipe is from Small Batch Baking.

OMG, these were fabulous! I doubled the recipe, to make for the 3 of us, and thankfully, there's one leftover for me! They bake up very moist and tender, with a nice crust on the outside. I wish I had some coarse sanding sugar; that would have pushed these over the top! If you love chocolate for breakfast (who doesn't), make these muffins. They are sure to impress. Thanks for sharing a wonderful recipe, Vyrianna.
Place a rack in the center of the oven and preheat the oven to 350ºF. Lightly grease only the bottoms of 2 jumbo muffin cups; then rub a little of the butter around the rim of each cup. (This will help them to form a rounded top.) Set the muffin pan aside.
Place the melted butter, buttermilk, vanilla, and egg in a small bowl and whisk to blend. Set the mixture aside.
Place a large fine-mesh sieve over a medium bowl. Place the flour, cocoa powder, sugar, baking powder, and salt in the sieve, and sift the ingredients into the bowl. Toss in the chocolate chips. Add the buttermilk mixture all at once and stir just until the dry ingredients are moistened. Spoon the batter into the prepared muffin cups, dividing it evenly between them; they should be about three-quarters full. Fill the empty muffin cups halfway with water to prevent them from scorching.
Bake the muffins until a toothpick inserted into the center of one comes out clean, 25 to 30 minutes.
Remove the muffin pan from the oven and place it on a wire rack to cool for 5 minutes. Carefully pour the water out of the empty muffin cups and let them cool, upright, on the wire rack for at least 10 minutes before serving. Server warm or at room temperature (They are best eaten the day they are baked but will keep for up to 1 day in a plastic bag at room temperature.).
NOTE: To make regular-sized muffins, grease the bottom and rims of 4 standard muffin cups. Spoon the batter into the cups and bake as directed until a toothpick inserted in the center of one comes out clean, 15 to 18 minutes.