Double Chocolate Apricot Muffins
igolf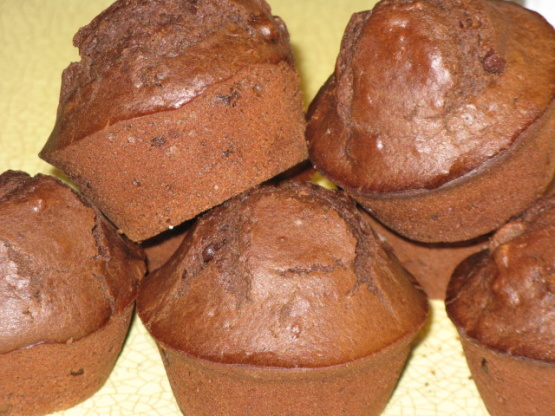 Adapted from "125 Best Chocolate Recipes". Delicious chocolate muffins with dried apricots (you can substitute for dried cranberries or cherries) if you wish!). I replaced half of the vegetable oil by light sour cream to lighten them a bit. Makes 12 big muffins.

Top Review by igolf
What great CHOCOLATE muffins! The chopped apricots add a wonderful little fruity burst inside all that chocolate.... YUM! A reduced the sugar to 1/2 cup and forgot to sprinkle sugar on the tops, but that really doesn't make any difference. I will make these again and again... Thanks, Redsie!
Preheat oven to 350°F.
Grease or put paper liners in 12-cup muffin pan.
In a small bowl, mix together flour, cocoa powder, baking powder and salt.
In a large bowl, mix together sugar, eggs, milk, oil and vanilla. Mix in dry ingredients just until combined. Fold in chocolate and apricots. Scoop batter into prepared muffin cups.
Topping: sprinkle with sugar.
Bake in preheated oven for 22 minutes or until a tester inserted into center comes out clean. Let muffins cool in pan on a wire rack for 5 minutes. Transfer to rack and let cool completely.