Tisme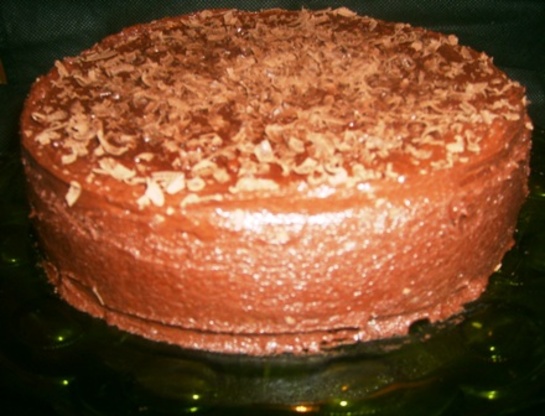 This is my husband's favourite chocolate cake. It's a quick and easy one bowl mix. No electric mixer needed. The recipe originally came to me back in the late 1980's via the fax machine when I was working a little country newspaper. It was promotional material by White Wings. Best thing that ever came through on that fax machine. ;o)

Made for Australia/NZ Swap #22. Oh, decadent YUMM!! Took this to the beach (house) with friends for a 2 day respite before starting a holiday dinner. Got 6 thumbs up !! Of the 3 Tbsp. cocoa, I used one of K.A. BLACK cocoa, and 1 in the icing. Also used mini-bittersweet chips in the cake, and no nuts. Just an informative note -- caster sugar = Superfine sugar (for the American cooks. We all enjoyed it and there was none to bring home. Thanks for posting, busyozmum. This will be made and shared often !
Pre-heat oven to 180C (350F).
Grease and flour a 20 x 7cm (8" x 2 3/4") round tin. I usually use a large bundt tin.
Sift flour, instant pudding mix, baking powder and cocoa into a bowl.
Add all remaining cake ingredients except for the chocolate chips and beat with a spoon for 1 minute.
Add chocolate chips and beat for a further 30 seconds or until choc chips are mixed through evenly.
Pour batter into the prepared tin and bake for 50-55 minutes or until a skewer when inserted in centre of cake comes out clean.
Remove cake from oven and allow to cool in tin for 5-8 minutes, then invert onto a wire rack to further cool.
When cold, spread with Icing over top and sides of cake.
Decorate with extra choc chips or grated chocolate.
To prepare Icing:.
Place butter and hot water into a mixing bowl.
Stir with a wooden spoon until butter has melted.
Add remaining ingredients and beat with spoon until icing is smooth.