Karabea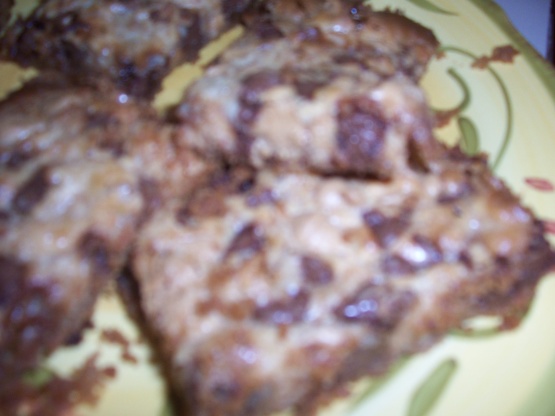 I read this recipe this morning in Taste of Home's "What's Cooking". It sounded so good that I went to the food store to get the necessary ingredients.They are now out of the oven and cool enough to taste. Oh my god, good!!! If you like chocolate and peanut butter, you've got to try these. Super easy, too!

Very easy to make. It's nice not to have a mixing bowl to clean. Yummy and very popular when taken to church. I've also made with peanut butter m&ms or chocolate covered peanut butter balls instead of the peanut butter chips. If you do use m&ms the candy coating melts and make kind of a rainbow effect. I thought it looked weird, but kids seemed to enjoy them that way.
Place butter in a 13x9 inch baking pan; place in a 350° oven until melted.
Remove from oven.
Sprinkle the cracker crumbs evenly over butter.
Pour milk evenly over crumbs.
Sprinkle with chips; press down firmly.
Bake at 350° for 25-30 minutes or until golden brown.
Cool on a wire rack before cutting.