Nif_H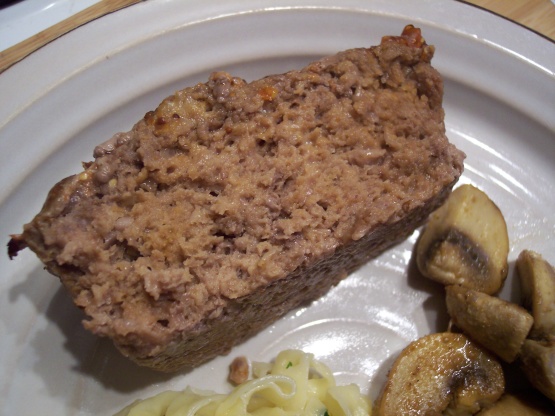 I found this on the web years ago, but unfortunately, I don't remember where. This has a ketchup glaze, but if you reduce the amount of ketchup and increase the brown mustard (which is what I do) you can't tell. This is excellent, and really doesn't have a lot of filler. I also increase the cheese. Sometimes I make this in my muffin tins. I generally serve this with mashed potatoes and dinner rolls, and my two picky sons both like it.

Top Review by Nif_H
Absolutely DELICIOUS!! I loved everything about this. It is very tender and moist and the flavour is excellent. I made this as listed, using lean ground beef and low fat mozzarella. I prepared this and froze it in a loaf pan, and defrosted it in the fridge for a couple days before I needed it. Very convenient! Made for my adopted chef for Fall PAC 2009. Thanks! :)
Preheat oven to 375°F.
Spray a medium skillet with cooking spray.
Heat over medium high heat.
Add onion.
Cook stirring occasionally, until slightly soft, about 3 minutes.
Mix onion, 1/4 cup ketchup, 1 Tbsp mustard, mozzarella cheese, bread crumbs, Parmesan cheese, and egg in a large bowl.
Add beef, mix lightly.
Spray a loaf pan with cooking spray.
Press beef mixture into pan.
Combine remaining ketchup and mustard in a small bowl.
Spread over top of meat loaf.
Bake meat loaf until set and cooked through, about 55 minutes.