Karen..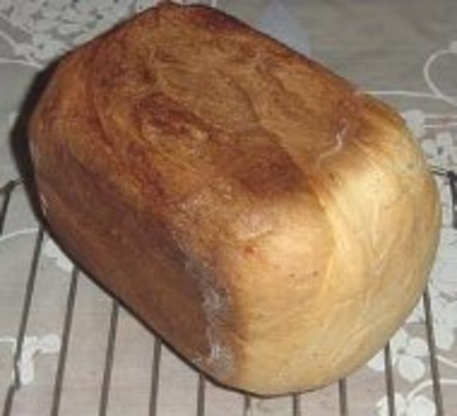 Top Review by P48422
I DO NOT OWN A BREADMACHINE, but this bread was terrific anyway; the texture, the flavor, the workability of the dough - really beautiful and delicious. When the loaves came out of the oven they were picture perfect. The dough handled very well. It has a beautiful, tight crumb, silky texture. Makes great toast and even better grilled cheese sandwiches. My family ate one entire loaf the first evening I made it! Wonderful bread, Chia. I made one small change - I substituted Monterey Jack cheese for the swiss, but the other ingredients I kept the same. Can't wait to make the rest of your breads. Now - that was my review. This is my comments. Since I do not own a bread machine, I had to modify the method ever so slightly. I discussed this with Chia and so I'm outlining the method for anyone who wants to try this bread but also doesn't have a bread machine. First off, this recipe makes 2 loaves, baked in standard loaf pans. All you have to do is proof the yeast in 1/3 c. of warm water in the bowl of your mixer. Reduce the milk to 1 c., and heat it with the butter just until the butter melts. Let it cool. Mix 1 cup of the flour with the salt and sugar and parsley. When the yeast is proofed, add the cool milk/butter mixture to the yeast along with the cup of flour/sugar/salt. Put the dough hook on your mixer and mix. Mix the cheeses into the remaining flour, and then, keep adding the flour/cheese, 1/2 c. at a time, until the dough comes together in a rough, slightly dry mass. Keeping the mixer on low, let it knead for about 5 minutes. You will see it become smoother and satiny. Remove the dough from the bowl and knead with your hands a few rounds, just until it becomes too hard to knead. Place the dough into a greased bowl, cover with plastic wrap and let rise until doubled. Punch the dough down, divide in half, knead briefly into loaves, place in greased loaf pans. Cover with plastic, let rise until doubled. Bake at 375 degrees until done, about 30-40 minutes.
Add all ingredients to bread machine.
Cook on "sweet" cycle.