Lainey39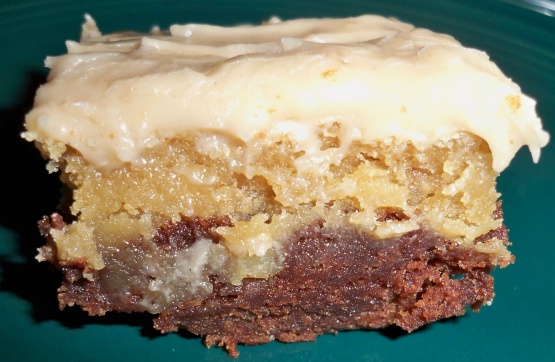 Usually I don't like brownies but this one I loved it. Chocolate and caramel. From Jean Paré.
Chocolate Layer: Beat the 2 eggs together until foamy. Add sugar, flour, walnuts and salt. Melt cocoa and butter in a saucepan, at low heat. Add to the egg mixture and stir well. Pour in a greased baking dish (9 x 13). Set aside.
Caramel Layer: In a clean bowl, beat butter and brown sugar until creamy. Add 2 eggs and vanilla. Beat to combine everything. Add other ingredients of the caramel layer. Stir. Put this mixture on the chocolate layer with a spoon. Spread it uniformly, do the best as you can (I remember it's not easy). Cook in the oven at 350 F for 30 minutes until the cookie begins to detach from the sides of the pan. Let cool.
Icing: Bring the butter, brown sugar and milk to boil in a saucepan. Let simmer 2 minutes then let cool. Add the icing sugar, adding icing sugar or milk if needed. Spread on the cold cookie.
Garnish: Melt chocolate and butter in microwave. Garnish the icing with melted chocolate. Cut in 54 squares.