Boomette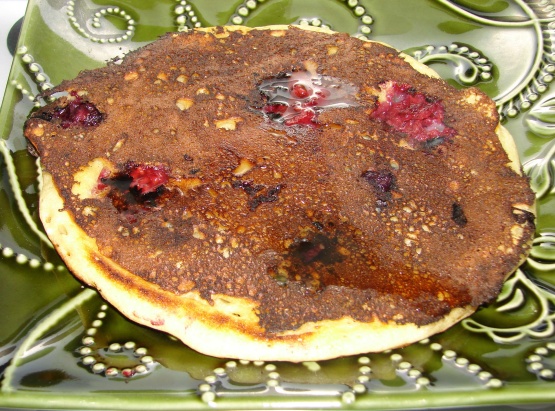 So very good with fresh berries, but frozen is fine. Do not thaw frozen berries before using. From Sunset magazine.
In large bowl, combine dry ingredients.
In another bowl, mix egg yolks, buttermilk and butter until well blended, then stir this into the flour mixture.
In another large bowl beat egg whites on high speed until soft peaks form, then fold into batter- gently but completely; there should be no white streaks remaining.
Cook pancakes on 350 degree nonstick griddle, using 1/3 cup of batter per pancake – evenly arrange 1 tablespoon each of blueberries and raspberries onto each pancake.
Cook until bottom is nicely golden brown and edges are dry then flip and cook around 2 minutes more.
Serve with real maple syrup.