Dottie's Zucchini, Chicken, and Rice Casserole
Lynn L.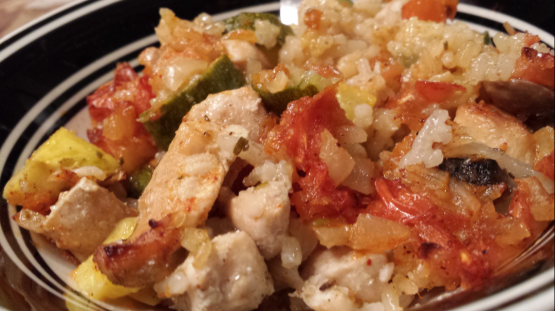 From Southernfoodabout.com. Can be made ahead and refrigerated before baking.

This was one of the best recipes I've made in a long time. I cooked it a bit longer than directed since my rice wasn't quite done, but the finished product was AMAZING. I will definitely make this again. Thank you for sharing such a HEALTHY one dish meal!
Preheat oven to 350*.
Heat 3 tablespoons of the oil in a large sautee pan and saute 1 cup of the onions with the garlic for 2 minutes.
Add the zucchini and mushrooms and saute for 3 minutes more.
Combine the vegtables with the cooked chicken, rice, broth, spices, and cheese. Mix and season to taste with salt and pepper.
Place mixture in a greased 9 x 13 baking dish.
Heat the remaining 1 tablespoon of oil and saute the remaining cup of onions for 3 minutes, then add the tomatoes and chili powder. Season to taste with salt and pepper.
Spoon the topping over the rice and chicken mixture.
Bake for 1 hour.