Dot's Delicious Corn Salad
Diana 2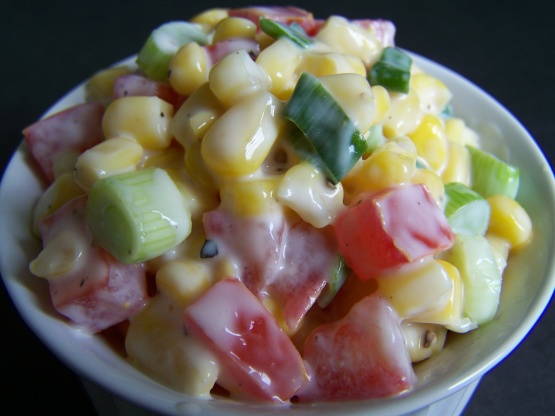 I know there are similar recipes for corn salad but none just like Dotty-boos. This is such a refreshing salad and so easy to put together. It's great in the summer. Cook time is actually chill time.

I really like this, unfortunately it was not well received at my gathering. There was a lot left, even on people's plates. The only thing I did differently is used cherry tomatoes, otherwise made as directed. I may give this one another try due to the fact that I enjoyed it. Thanks for posting!
Combine corn, mayonnaise, lemon juice, and salt and pepper in a bowl. Stir well.
Add tomatoes and green onions and mix gently.
Cover and refrigerate over night.
When ready to serve, give it a good stir and then watch it disappear from sight!