Jacky19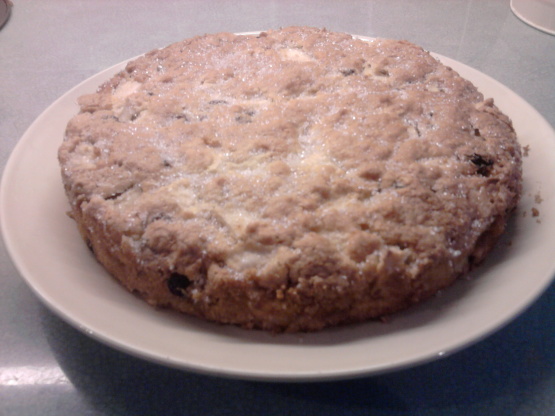 This is my version of Dorset Apple Cake based on an old sounding recipe I found online. I've converted it to metric and made the recipe more specific.

I live in Dorset so I get to try various types of this cake. Try sultanas rather than raisins and add a rounded teaspoon of mixed spice* and the zest of half a lemon. To stop the apple browning put the cubed apple in a polythene bag with a little lemon juice and shake up. Drain any surplus juice before adding it to the cake mix. *not sure if mixed spice is the same in USA as in the UK. In the UK its a mixture of ground cinnamon, cloves, mace, nutmeg, coriander & allspice.
Rub butter into flour.
Stir in baking powder.
In a separate bowl, stir sugar into the chopped apples and raisins.
Add egg and milk and mix gently to a firm sticky dough, add sugared apple pieces & raisins and mix again.
Scrape into greased or buttered 8x8inch cake pan. Wet hands and press mixture into pan.
Bake for 30minutes at 330F, 165°C.