Doro Wat (Ethiopian Spicy Braised Chicken)
loof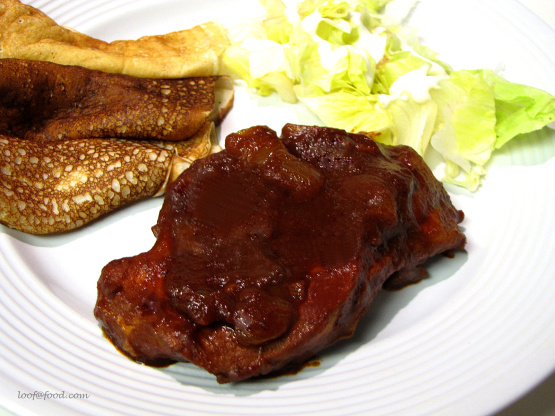 Ethiopian cooking is known for its "berbere", a highly spiced hot red pepper sauce. This chicken dish makes use of this sauce. To cut fat, you may take the skin off the chicken, although this is not traditional. Bone in chicken tastes best. Serve with Injera (Ethiopian Flat Bread) 455607. This recipe comes from "Classic International Recipes".
LOVE THIS. I have a doro wat recipe that I've been using for a while, but this one is so much better. That sauce is incredible, and it smells so good while it's cooking. I used 8 drumsticks instead a whole chicken, and the meat was fall-off-the-bone tender. My sister-in-law said it was the best thing I've ever made! Thanks for sharing.
For the berbere:.
Combine the tomato sauce, paprika, 1/4 cup red wine, grated gingerroot, ground ginger, red pepper, cardamom, nutmeg, cloves, cinnamon, and allspice.
Set the red pepper sauce aside.
For the chicken:.
In a large skillet cook the onion and garlic in hot oil until the onion is tender but not brown.
Stir in the red pepper sauce, turmeric, and 1 tsp salt.
Add the chicken pieces to the skillet. Spoon the onion mixture over the chicken pieces. Bring the mixture to boiling; reduce heat. Cover and simmer about 30 minutes.
Stir in 1/4 cup dry red wine. Cook, uncovered, about 15 minutes; turn chicken pieces often. Skim off the fat, and serve with Ethiopian Flat Bread.