MsPia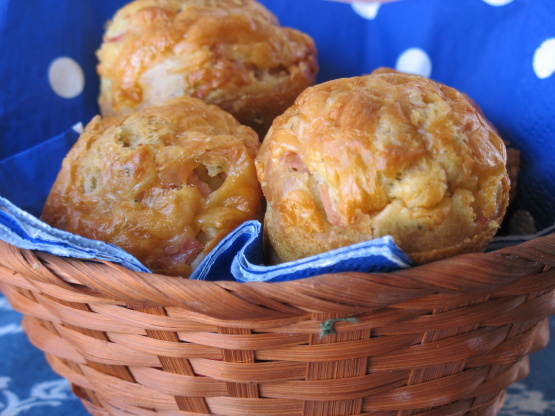 Quick choux-like snacks with a large choice of toppings: delicious! Doreen, who "threw" this recipe together, is one of the most wonderful, exemplary elderly people I know. I have never seen Doreen "down", and she hasn't had an easy life. She seems to dance through life, never losing faith and her joy of living! She's deep in her 80's and now lives in a retirement village. I've just made a batch of these, and I'm updating the recipe without changing it (Oct 9, 2007). Thank you, sweet Doreen! (Prep time does not include time you might take to prepare a topping). Use patty pan hollows and small spoons of batter to make this a more delicate bite!
Heat oven to 180 deg C/350 deg F.
Grease a 12-hole muffin tin, or use 2 patty pans to get smaller snacks, but they'll be harder to handle.
Beat the 2 eggs, and pour into a measuring cup.
Fill up to a full cup with milk. (Be careful not to mistake egg foam for liquid, so squint well at your measuring jug and make sure you have a cup of liquid).
Pour mixture into a mixing bowl.
Add the oil, then the flour, baking powder, salt, pepper and herbs if used.
Mix well until smooth and mixed.
(NOTE: my electric beaters did not work well with this choux-like batter -- it kept creeping up the beaters. I found it easier to mix this with a spoon or a strong spatula. Then it hit me: Doreen never had a luxury like an electric mixer in her life. She would have mixed it by hand anyway).
Fill each well-greased muffin hole not more than 1/3rd full. It's easiest to use a spoon and clean fingers. Don't worry because the batter won't spread evenly.
Add one of the toppings given above, pressing in lightly with your fingers, else it tends to roll off as the snack rises in the oven. Especially important if using minced meat -- press it inches.
Bake in preheated oven for 20 - 25 minutes, until puffed and golden.
Best served warm, but can be made ahead and gently warmed up again in an oven.