Dora's Rich French Onion Soup
Boomette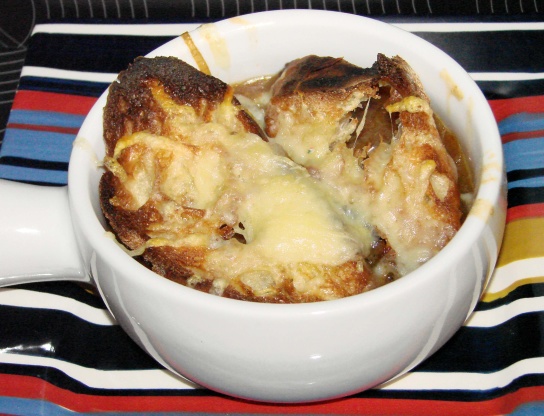 This soup was first inspired by Mrs Weasley's onion soup that she serves to Harry upon his arrival at the Burrow soon after the end of his 5th year at Hogwarts. From that I looked at through my favourite old cookbook and adding some personal flare, created the best, thick, rich onion soup I have ever had.
Chop onions into thin strips and add to melted margarine in a large pot. Add garlic and cook onions, stirring occasionally until softened.
Add some salt to onions.
Add Bovril and Worcestershire sauce and continue cooking onions over low heat for 30 minutes m minimum, stirring occasionally.
With a fork, blend flour and sugar together then add to onions, stirring the whole time.
Cook onions with flour and sugar for 2-3 minutes.
If using beef broth add with water and simmer soup partially covered for an additional 30 minutes minimum.
Add additional salt to taste.
Preheat oven to 400°F
Ladle soup into oven safe bowl. Float slice(s) of bread on the soup and layer cheese over top.
Bake on a cookie sheet until cheese melts and starts to brown.