Door County Fish Boil Dinner (At Home)
livie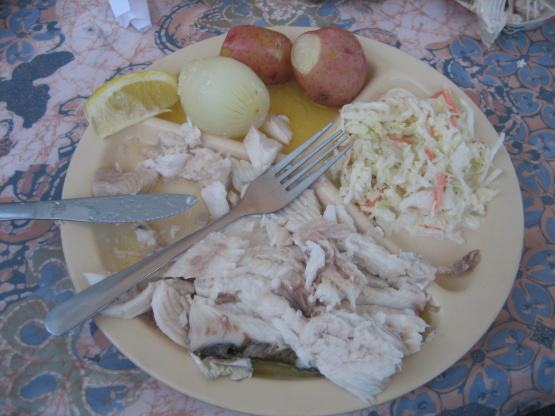 If your not close enough to Door County, but are really in the mood for the delicious fish boil, you can make it at home now. Got this recipe from a free Door County dining guide. I put extra info in though so it truly tastes like the real deal!
16

pieces lake michigan whitefish, in 2 inch wide slices

16

small baby red potatoes (I use the B size baby red potatoes)

16

small sweet white onions, peeled and left whole (like pearl onions)
1⁄2 lb salt

2

gallons water
Coleslaw
Add a 1/4 lb. of the salt to water and bring to a boil. Add potatoes, boil for 16 minutes. Add onions, boil for 4 minutes more. Add fish and the other 1/4 lb. of salt and boil for 10 minutes, then drain in a colander. For each plate, place two pieces of fish, two potatoes and two onions. Then drizzle the fish, potatoes and onions with 2-3 tablespoons of melted butter (I use unsalted). Serve with a wedge of lemon, coleslaw and a piece of Door County cherry pie for dessert.