gailanng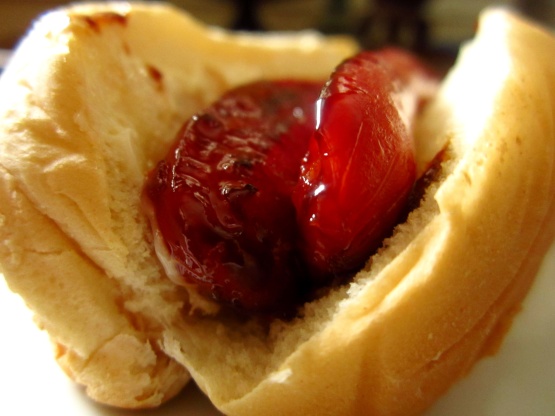 This is my knock-off recipe from a little restaurant in Lexington, Kentucky called Doodles. They make the best hot dog in the city! I like mine blackened, but suit yourself...

Quite a tasty hot dog you've got here! I let my sugared side get a little blackened as you suggested and it had almost a bacon-like flavor. Simply topped with a little ketchup and enjoyed a great lunch - thanks for sharing your recipe! Made for Fall PAC 2012
453.59

g dearborn beef frank (8 dogs)

39.43

ml brown sugar

8

hoagie rolls or 8 bread, of choice
cooking spray

59.16

ml softened butter
Split franks but don't cut all the way through. Open to make them flat. Sprinkle brown sugar over them, one teaspoon per dog.
Spray cooking spray in a non-stick skillet, and cook franks first on the "rounded" side, and then flip to the "flattened and sugared" side. (This is where I like to allow mine to get a little blackened.).
Meanwhile, open buns, careful not to break, and brush each inner-side of buns with 1/2 tablespoon of butter. Broil until butter is melted and buns are a little toasted.
Add your favorite toppings and enjoy the best hot dog you'll ever eat!