Boomette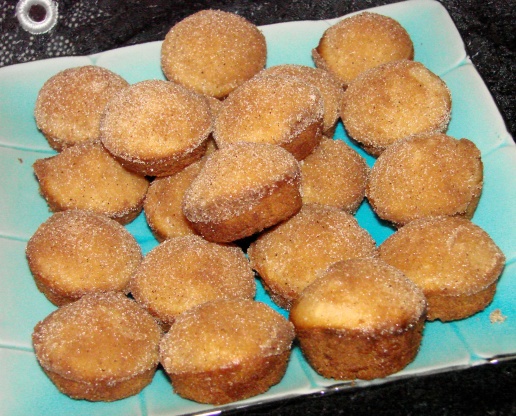 Received this recipe in an email and had to post! Will be making these soon, sounds so simple and tastey!

Really enjoyed these muffin/donuts! I used butter, as it is what I had on hand. I don't think it made a difference in the recipe! I forgot to reduce my oven temp, as I used a dark pan. They were done in 15 minutes, with a sweet crust and a moist, tender inside! :) YUM! Thanks for sharing, AZPARZYCH!
Preheat oven to 375 degrees F (190 degrees C).
Grease 24 mini-muffin cups.
Mix 1/2 cup sugar, 1/4 cup margarine, and nutmeg in a large bowl.
Stir in the milk, then mix in the baking powder and flour until just combined Fill the prepared mini muffin cups about half full
Bake in the preheated oven until the tops are lightly golden, 15 to 20 minutes
While muffins are baking, place 1/4 cup of melted margarine in a bowl.
In a separate bowl, mix together 1/2 cup of sugar with the cinnamon Remove muffins from their cups, dip each muffin in the melted margarine, and roll in the sugar-cinnamon mixture.
Let cool and serve.