Donut Balls (Healthy, Yes Healthy)
pjspelce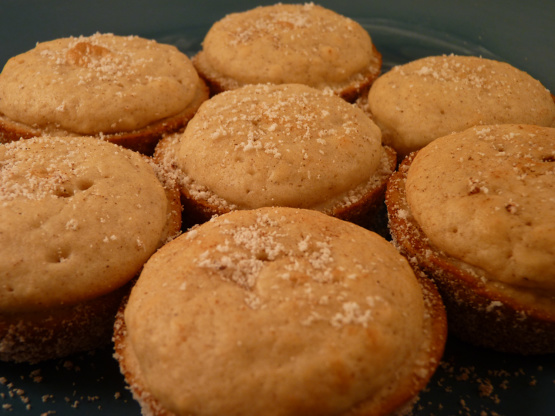 These luscious morsels are a pure taste of heaven. I make these quite often, and my 11 year old nephew requests them all the time, and he even knows they are healthy. Once again, a wonderful recipe from Joann Lund. I am posting this for my wonderful friends at WLB2006. Each serving (2 doughnuts) is only 1 Starch Exchange. I don't know the exact calories, but a starch serving is 80 calories. Family and friends won't believe these are healthy. Yes, it is 1 cup and 2 tablespoons of reduced fat Bisquick, computer wouldn't let me put in 1 Cup + 2 tablespoons.

Guess what! Bisquick makes a Heart Smart mix too! Low fat, 0g trans fat, cholesterol free with added calcium and if that is not good enough for your ultra health consciences, you can even make your own dry mix using recipe #55564 or recipe #75577 (or do a search of your own for even more recipes for Bisquick substitutes). You don't like all purpose flour? Whole wheat is perfect for you. If you don't like sugar substitute, then use regular sugar. You too, can enjoy this delicious recipe by making it as healthy as you like by using ingredients more to your standards while you control your own hydrogenated fat content and anything else you deem unfit for human consumption or poisonous. That is the beauty of creative cooking. Btw, powdered milk is simply dehydrated milk with the fat removed. There is nothing unhealthy about it and it still contains calcium and added vitamin D in many cases. Good luck in your cooking adventures. I hope you enjoy every bite.
Preheat oven to 350 degrees.
Spray a 12 hole mini muffin pan with butter flavored cooking spray.
In a medium bowl, combine baking mix, 1/4 cup Splenda and 1/2 teaspoon cinnamon.
Add egg, skim milk and vanilla extract.
Mix well to combine.
Drop by spoonfuls into prepared muffin pan.
Bake for 14 to 16 minutes.
Place muffin pan on a wire rack and cool for 10 minutes.
Remove balls from pan.
In a ziploc plastic bag, combine sugar coating ingredients and place warm donut balls in 2 or 3 at a time and shake to coat.