Don't You Dare Give Me Instant - Banana Pudding Supreme
Prep 10 mins
Cook 30 mins

My Granny's banana pudding - the only one that's worth me spending the calories on! As the recipe title suggests, I won't touch the kind made with instant banana pudding - and don't give me anything with meringue on it, either...this doesn't last much more than a day around here. Chilling time is not included in time estimates.
Directions
In a medium saucepan, combine sugar and flour; add milk and beaten egg - whisk to combine.
Cook over medium heat, stirring constantly, until mixture thickens.
Remove from heat, add butter and vanilla.
Cool completely.
Stir sour cream into pudding.
Layer in this manner; 1/2 of the wafers, 1/2 of the bananas, 1/2 of the pudding, and 1/2 of the cool whip.
Repeat layers.
Refrigerate approximately 8 hours or overnight before serving.
Most Helpful
Excellent!!, I agree with you, no instant pudding!! As soon as I see a recipe that calls for even boxed pudding, I pass it by. I just happened to have all of the ingredients for your recipe so I made it just as you said, no low fat for me!! It will go into my do again cook book, Thanks so much for posting it, Vi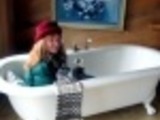 YummY! I've never made homemade banana pudding. It was so easy and delish! Thank you for posting your grandma's recipe! I used skim milk, light sour cream, and light cool whip. Thanks, Whatcha Cookin', Mom?! :)