Don't Throw Away That Turkey Carcass!!!!
gailanng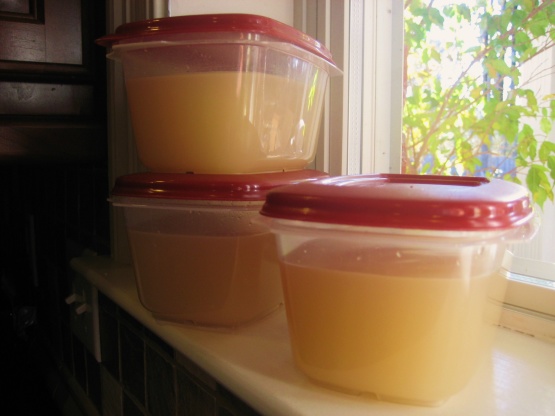 Don't throw away the turkey bones after you've demolished your bird! Save them to make a fantastic turkey stock, which you can then use to flavor all sorts of soups and gravies. After you strain the stock you can freeze it in small Tupperware tubs, or even in ice cube trays, very handy to have in the kitchen!

I threw the spices that I had inserted into my turkey carcass into this mix as well, and it turned out wonderfully well. I strained it, then put it in the fridge for 24 hours to let the fat congeal on top. Then I scraped off all the fat and put the stock into ice cube trays and froze it. Once frozen, I threw it into ziplock bags...5-6 cubes = 1 cup, depending on the size of your ice cubes. I'd measure it the first time, then whenever you need a cup of stock, you'll know how many ice cubes to pull! Thats how I do my chicken, beef, seafood, and veggie stock, and it works great for me! No waste, no fat, and easy to do. Thanks for sharing.
Toss everything into a large stock pot.
Add enough water to cover.
Bring to a boil, then lower heat to a simmer.
Simmer for 1 hour.
Strain.