Donna's Creamy Chicken Enchiladas
PaulaG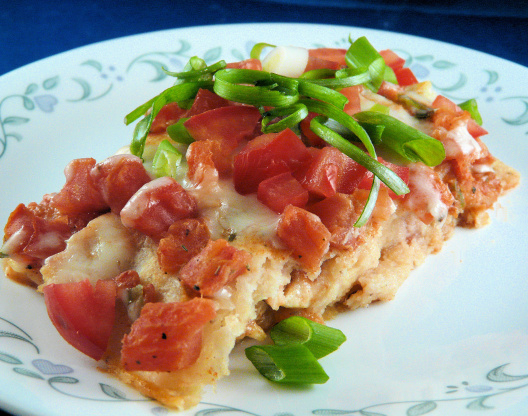 I have no idea where I got this recipe or who Donna is, but this is a simple and tasty enchilada dish. It goes together quickly because you start with a rotisserie chicken.

I made this, but I made some changes and errors that damaged the end results. Feeling very stupid. I had to use salsa instead of picante sauce because the latter was too high in sodium; I also had to use lowfat versions of the dairy products. I think this would have been much better if I hadn't done any of those things. I added some chipotle and ancho pepper powders, along with cayenne pepper, for some more heat. That change actually was good. Thanks for a quick, easy meal!
Mix picante sauce, soup, sour cream and chili powder.
Reserve one cup of the sauce mixture.
Mix the reserved picante sauce mixture, chicken and cheese.
Spread about 1/4 cup chicken mixture down center of each tortilla.
Roll up and place seam-side down in 3-quart shallow baking dish.
Pour remaining sauce mixture over enchiladas.
Cover and bake at 350ºF for 40 minutes or until hot.
Top with additional picante sauce, tomato and onion.