Donna Bell's Bake Shop Hummingbird Bread Pudding
Jostlori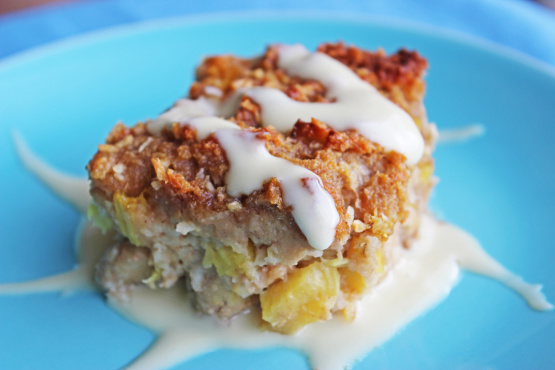 I got this recipe from The Early Show on CBS recently, looks good.

This was a nice bread pudding, especially with the sauce drizzled on it. We didn't add the nuts to the sauce because I can't eat them, but it was still very good. Next time, will cut down on the coconut and add more diced banana, or maybe add sliced banana over the top, before the sauce. What I liked best is that it was not too sweet. Thanks for posting! Made for My 3 Chefs 2013.
METHOD:.
Cube bread or rustic tear into small pieces.
Whisk eggs, add vanilla and milk- mix.
Add dry ingredients- sugar, cinnamon.
Mix in smashed banana.
Fold in banana pieces, pecans, coconut, and pineapple.
Add all bread to mixture- stir and mix.
Let mixture sit for 10-15 minutes- mix again after 5-10 minutes.
Pour mixture in greased casserole pan, bake at 350 degrees F for about 45 minutes.
Cool, serve, top with Cream Cheese Pecan Sauce (recipe follows).
Whip cream cheese with spoon and add powdered sugar slowly until smooth. Add vanilla and milk. Mix completely.
Fold in pecans and drizzle over warm Hummingbird Bread Pudding!