Dom's Broiler Roasted Red Peppers
awalde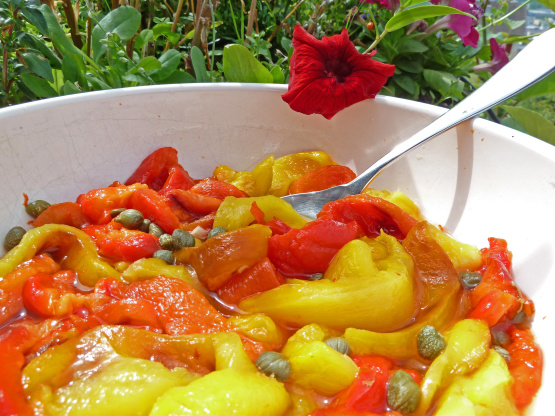 From Dom DeLuise. What makes this different from other roasted pepper recipes is that the juice is saved and added to the marinade. You can use all red peppers, or a combination of colors. Time include standing time for peppers but not chilling time.
Preheat broiler.
Spread aluminum foil over the bottom of a broiling pan. Place peppers on foil and broil until skin becomes blistered and charred, turning to char all sides, about 15 minutes.
Remove peppers from oven. Lift corners of foil and fold them together to seal in the peppers. Cover with a dish towel and let stand 30 minutes.
Unwrap foil carefully. Remove and discard stems, seeds, and charred skin, but save all the liquid.
Put the saved liquid in a mixing bowl. Cut peppers into 1/2" strips and place in bowl.
Add remaining ingredients and refrigerate several hours or overnight.
Remove garlic before serving. Serve this with tomatoes as an appetizer, in sandwiches, or as a side dish with meat, chicken or fish.