jlv4177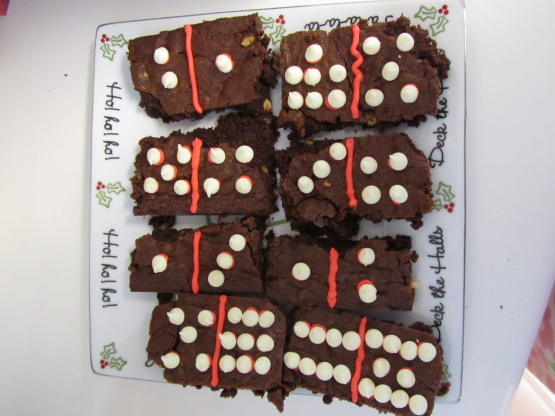 Something you can play and eat, double the enjoyment!

Made these with my daughter when we were working with "d" words. We followed the recipe almost to the letter. We didn't have unsalted butter, so we used regular butter and omitted the salt. Also, the directions said to add vanilla but there wasn't vanilla listed in the ingredient list. So we put in 1 T - we really like vanilla. We also added some of the white chocolate chips to the batter so we wouldn't have them laying around. They turned out quite tasty and we had fun deciding how many dots to put on each domino and then counting out the chips.
Heat oven to 350.
Spray a 13x9 baking pan with nonstick cooking spray.
In a large bowl beat sugar and butter together with an electric mixer.
Stir in melted chocolate; beat in eggs until well combined, then mix in flour and salt.
Add vanilla.
Scrape batter into prepared pan.
Bake until wooden pick inserted in center comes out clean, about 25 minutes.
Cut into rectangles measuring about 3 in long by 1 1/2 wide.
Place on wire rack to cool.
Add frosting lines; top with white chocolate chips to resemble domino patterns.