Dominican Moro De Habichuelas Negras
Kim127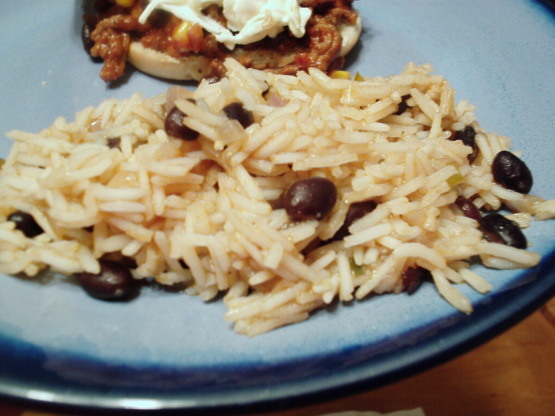 Similar to Puerto Rican and Cuban, rice and beans. This is the version from the Dominican Republic where it is a staple dish for Christmas. We also make the same with red kidney beans. Try to boil your own beans instead of using the canned type. I find it makes a great difference. Just put about 2-3 cups of raw beans in 4-5 cups of water, hard boil for 10 minutes, then boil over very low heat for 4-6 hours until the bean can be easily be squeezed between your fingers. Then you can freeze or refrigerate them in its own water. When using them for the rice use the same water they were boiled in, much more flavorful.

Top Review by Kim127
Great way to prepare rice and beans!! I did double the amount of black beans (sorry I used the canned ones) and would maybe increase the amount of onion and pepper next time. The rice cooked up perfectly! Thanks from one Sirena to another :) Made for Las Mistico Magicos Sirenas - ZWT5.
Heat oil in a large pot over medium heat and add the garlic, onions, oregano, pepper, parsley, and salt. Sautee for a minute then add the bouillon, stir until dissolved. Add the tomato paste and stir until heated.
Add the beans and stir with your base. Heat for about a minute stirring constantly. Don't let it stick or burn. Increase heat to maximum and carefully add 1 cup of the water and allow it to simmer.
When it starts to simmer, add the rice, stir and add the rest of the water. (at this point you should test for salt, it should be a bit saltier than you'd prefer because the beans and rice will absorb most of it). Bring to a boil.
When it starts to boil reduce heat to the lowest possible and cover with a lid.
After 15 minutes remove the lid, most of the water should have been reduced. Throw in the whole spring of coriander and give everything a good stir from bottom to top. Cover again and let it cook for 10-15 more minutes.