Dolmas (Stuffed Grape Leaves)
WiGal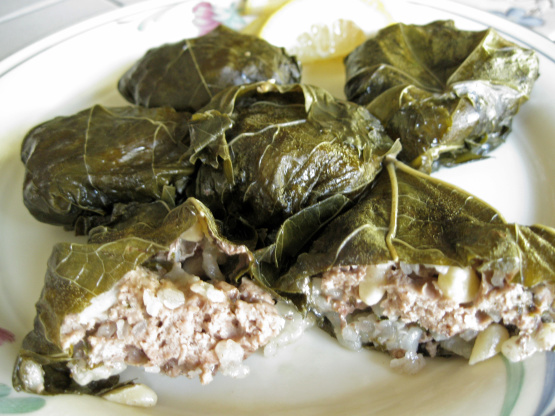 A favorite appetizer in Greece and throughout the Middle East. It can be prepared ahead and served either hot or cold.

Top Review by WiGal
Very good dolmas! Love the pine nuts in this. This is a large recipe so froze half of it. Timing was spot on for cooking them. I used short grain rice. Served with recipe#67811, bread, and a dessert. Thanks for sharing Ice Cool Kitty. Made for Unrulies Under the Influence during ZWT6 Greek tour.
In a small bowl mix 1/2 cup chicken broth, beef, lamb, rice, onion, pine nuts, parsley, garlic and mint. Set aside.
Gently rinse grape leaves and pat dry with paper towels. Arrange on a work surface with the shiny side down. Place 1 tablespoon meat mixture in the center of a grape leaf. Tuck in ends and roll tightly toward the leaf point. Repeat until meat mixture and leaves are used up.
Arrange wrapped leaves, in layers, in a large sauce pan with seam side down. Cover leaves with remaining broth and the lemon juice. Weight leaves with a heavy plate to prevent opening.
Cook over low heat 45 minutes.
Serve with plain yogurt; garnish with lemon slices.