Dolmades With Avgolemeno Sauce
Coasty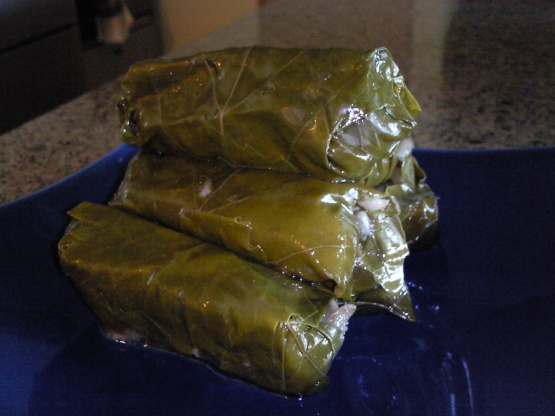 From Closet Cooking site with some variations. These can either be a main dish or an appetizer, depending on your appetite and amount you put inside each. Serve with good crusty bread and a Greek salad. I like IngridH's suggestion that you fry up a small portion first to do a test taste for salt and pepper adjustments. You will get somewhere between 32 to 35 of them. Also, think you could sub swiss chard leaves for grape. Recommend making ahead and warming up later or freeze w/o sauce. Could be adapted to crockpot if you want- guessing 2 hours on low with WEIGHTED plate directly on dolmades. You do not want it to boil. Here is a link for rolling with 9 slide shots http://greekfood.about.com/od/greekcookinglessons/ss/foldleaves.htm

I really liked these! They do take a bit of time to put together, but are well worth the effort. I didn't make the avgolemono sauce, as I plan to freeze these for later meals and make the sauce fresh when I need it. I got 32 pieces from the recipe as written, but if I had more leaves, I could have made about 5 more. I would suggest frying or poaching a small ball of the filling before you start rolling, so you can check the salt and pepper levels before it's too late to add more. Thanks for a yummy recipe!
Separate the grape leaves and place in a large bowl. (This will take a long time guessing 20 minutes.).
Cover the leaves in boiling water and soak for 20 minutes.
Drain the water and rinse leaves few times.
Meanwhile, in a medium saucepan over medium heat, add onion, rice, and water.
Cover and simmer until rice is HALF cooked, about 8 minutes.
Drain off and discard any liquid.
Add garlic to rice mixture.
Mix the onion/rice mixture, ground meat, tomato puree, feta, lemon zest, green onions, dill, mint salt and pepper in a large bowl.
PREHEAT OVEN to 375 degrees.
Take one leaf, shiny side down, cut off the stem, and place 1 teaspoon of the mixture at the bottom (stem) end of the leaf. (If you want a bigger amount, put 1 tablespoon of filling in.).
Fold both sides of the leaf towards the center, roll up from the broad bottom to the top, and place into a 4 QUART POT.
Repeat with all leaves, rolling tightly- leaving no gaps as leaves are placed in pot (to prevent from opening while cooking). Put onto tray.
Repeat until all of the filling is used up.
Put leftover leaves in bottom of baking dish.
Place stuffed grape leaves into a baking dish in layers, squeeze them gently, pack tightly into container, and just cover with chicken stock-might be too much stock. WEIGH DOWN BY placing a heavy oven proof plate inside casserole directly on top of dolmades-weigh that down with another oven proof weight.
Bake in a 375 degrees F oven for about 1 hour, check to see if rice is done. You do NOT want it to be a rolling boil or they will burst open.
Whisk the eggs in bowl over a small pan of simmering water until frothy, about 3 minutes.
Slowly pour in the lemon juice while whisking.
Gradually add some of the hot but not boiling liquid from the baking dish-guessing about 5 tablespoons- and continue whisking until it thickens.
Mix most of the avgolemeno sauce into the dish with the dolmades reserving some for garnish.
Serve the dolmades garnished with the reserved avgolemeno sauce and some chopped dill and or mint.