Doing "the Mashed Potato" Balls
Bergy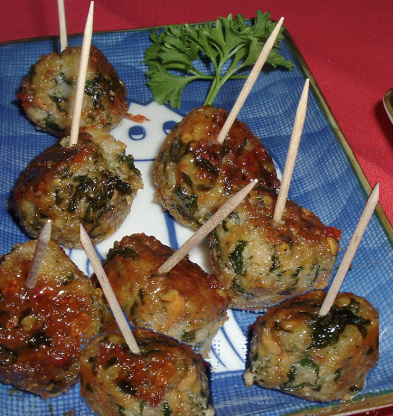 The dance "Mashed Potato" gained international fame due to a mega hit by Dee Dee Sharp in the 60's named "Mashed Potato Time". It originated in Philadelphia and went wild from there.To do the dance you pump your legs up and down like a potato masher (CD not included)- it is not recommended that you use your feet to mash these potatoes - regular masher accepted, Why you ask have I given all this detail? Why to give the recipe an international flavor of course. In this recipe I have rolled the balls in crumbs & Asiago it gives a nice crisp crust to the balls but you may omit the crumbs and simply add the Asiago cheese to the mixture. You may substitute left over cooked chicken finely chopped - if this is done add the chicken to the mixture after you wilt the spinach. I like to use a spicy sweet chili sauce for the final step but if you do not like spicy then use your favorite BBQ sauce

These were very good. I did find them a little soft, but that may be due to my mashed potatoes. If my oven had been working I would have put them in to brown. Instead I used an electric fry pan. My family liked these and I liked that I was able to fit in extra vegetables into their diet. Thanks for the recipe.
In a large skillet heat a tbsp of vegetable oil, add the chicken and saute over medium high heat until cooked, approx 8 minutes; add mushrooms and continue cooking for 3 minutes, add salt & pepper to taste.
Add spinach and cook only until it wilts, add garlic powder lemon & nutmeg.
Stir to mix well and remove from pan place mixture in a large bowl to cool.
When cooled add mashed potato & beaten egg; mix well.
Roll the mixture into 3/4" balls.
Mix the Asiago cheese and bread crumbs.
Roll the balls in the breadcrumb/cheese mixture.
At this point you may cover the balls and place in the fridge for several hours before completing the final steps or continue.
Heat the second tbsp of oil in your large skillet over medium heat and brown the balls, be gentle turning them but get them brown on all sides and crisp, approx 10 minutes.
Add the chile or BBQ sauce to the skillet turn heat to low and turn the balls to coat with the sauce - this last step takes approx 5 minutes.
Insert toothpicks and serve.