jenne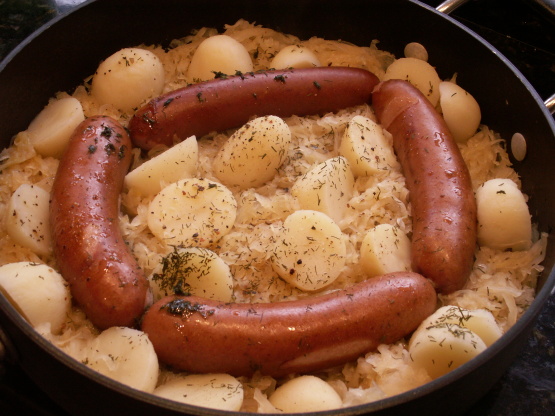 This is so INEXPENSIVE and is on the table in 10 minutes flat. I made this frequently in college when on a tight budget. Feel free to use hot dogs, brats, polish sausage or whatever type of "dog" you like; these days I buy the more expensive hot dogs in natural casing from the butcher. You will find that the beer and potatoes some how take the bite out of the canned/tinned kraut. And now that I am an adult (don't laugh) I am thinking that some canned carrots would be great in here too! Serve with a side of horseradish sauce (I highly recommend Horseradish Sauce) for dipping, some dark bread and a cold glass of beer!
This was super easy and quite good. Made as directed, used the dill and the black pepper, felt it needed those spices. We used hot dogs, but I think polish sausages might add to the meal, will try that next time. Made for ZWT6
In a large frying pan over medium heat, place the kraut with juice, potatoes (drained and halved), and hotdogs. Pour beer over top.
Sprikle with dill and caraway seeds if using them. Top off with some cracked black pepper.
Cover and let it simmer for 7-10 minutes until hot.
NOTE: If using an uncooked sausage/brat, you will need to let it simmer for 20 minutes.