luvcookn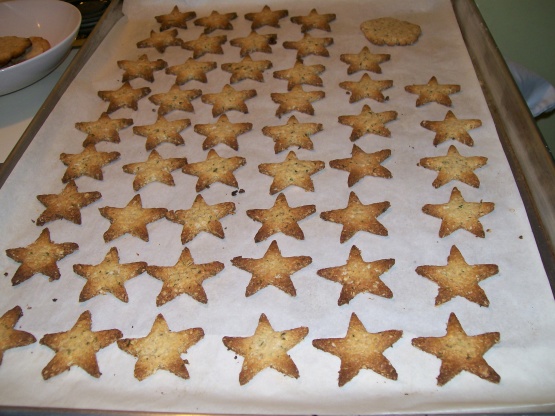 These are soooo good that we even eat them....ok...maybe just one...because after all they are for the pooches. I made these for Christmas presents for all the doggies in my life. You can use whatever shaped cutter you like. I make mine about 1/4" thick and bake them for 15 minutes...because these are for small dogs.
Line rimless baking sheet with parchment paper or grease. Set aside.
In bowl, whisk together the flours, oats, cornmeal, sugar, baking powder and salt.
In separate bowl, beat butter with peanut butter; beat in eggs, 1 at a time.
Stir in flour mixture, mint and parsley to make a soft dough.
Divide in half; wrap and refridgerate until firm, about 1 hour. (Make ahead and refridgerate for up to 2 days).
On lightly floured surface, roll out dough to 1/2" thickness.
Use a cookie cutter of your choice. I use a small 2" round cutter because I have 2 small dogs.
Arrange on prepared sheets.
Bake 325 degrees until golden and firm -- about 35 - 40 minutes. But I found that for our altitude -- 15-20 minutes does the trick for us.
Transfer to rack; let cool.
Store in airtight container for up to 2 weeks.
**The serving size is dependent on the size of the cookie cutter you use.