Juenessa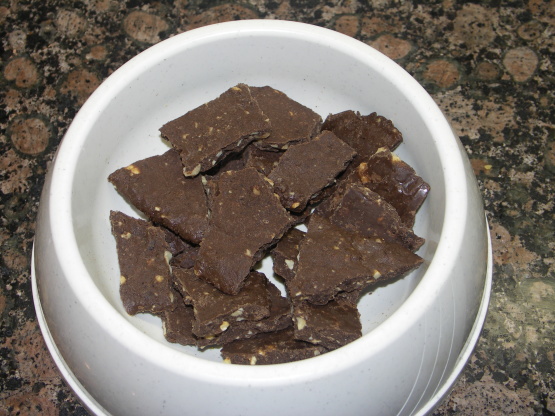 A special gift for the 4 legged creatures in your life. Make sure and never give a dog chocolate as it can be deadly; however, carob chips are safe. The recipe is printed in a holiday magazine this year. I am updating this based on the review by Juenessa.

I also got this recipe from FamilyFun magazine. My doggies love it, and actually, so do my humans!
4

cups carob chips
1⁄2 cup smooth peanut butter
1⁄2 cup dry roasted peanuts
1⁄4 teaspoon cinnamon
Line a cookie sheet with foil that has been sprayed with non-stick cooking spray.
Place the carob chips and peanut butter in the top of a double boiler over boiling water, stir until mixture melts and becomes creamy.
Mix in the nuts and cinnamon.
Pour the mixture onto the prepared cookie sheet and place in the freezer for 15 minutes or refrigerate for 30.
Peel off foil and break into 1 x 2 inch pieces.
Store in airtight container for up to 2 weeks.