rpgaymer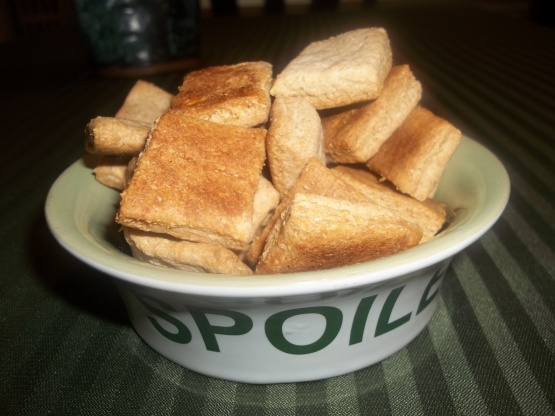 Whenever I have the time I much prefer to make these over store bought- dogs love them!

Great recipe. As suggested by Pismo, I mixed in food processor - so easy. Also, like Mommyoftwolittleones, I added a couple tablespoons of wet dog food. Then I spread on a cookie sheet - didn't quite fill the cookie sheet. I baked for 10 minutes, cut with a pizza cutter into small squares. Baked another 15 minutes, broke up and then baked another four hours at 250 degrees as I wanted them very crunchy. My three litle dogs loved them - everytime I opened the oven door, they were right there begging for a treat. Thanks for a great recipe.
Mix flour, salt and sugar together with fork.
Cut margarine into flour and using your fingers, work in margarine until mixture forms clumps.
Make a large well in centre of mixture.
In another bowl whisk egg with a fork, add skim milk and peanut butter and whisk until peanut butter has streaks running through it.
Pour into well in flour mixture and work together with a fork.
Using your hands, knead mixture until evenly moist- about 2-3 minutes.
Roll into ball and place on floured surface.
Roll dough to about 1/2 inch thickness and cut with cookie cutter or cut into squares according to the size you would like.
Bake at 350 for 30 minutes until golden brown. I sometimes leave them in the oven after it's turned off to make them crispier.
Remove to racks to cool.
Store in container in cool place or frig for 2 weeks, or freeze.