teresas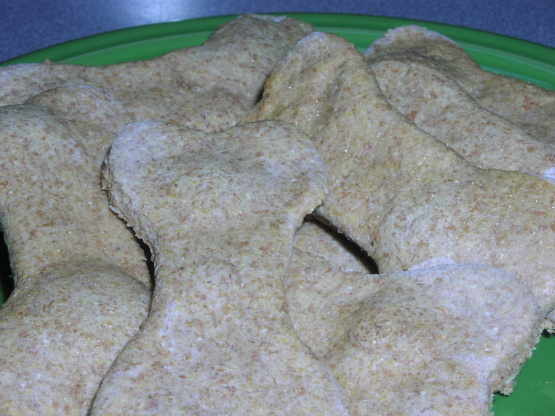 We like to make them for our cocker spaniel, that way we know what goes into his treats, Sometimes after we brush with beaten egg, we sprinkle with bacon bits, or granulated beef or chicken bouillon

These were really easy and my lab really like them! I didn't have whole wheat flour so I used all purpose and they turned out great! Thanks for the recipe!
Combine flour, cornmeal, oil, broth and eggs with milk in order.
Let set for 15 minutes.
Preheat 350* oven.
Roll out on lightly floured surface.
Cut into desired shapes.dog bones, etc.
Place on lightly greased cookie sheet.
Brush with beaten egg.
Bake at 350* for 30 min -- or till golden brown.