Dog Food for Normal, Fussy, Fat, Thin and Diabetic Dogs
TasteTester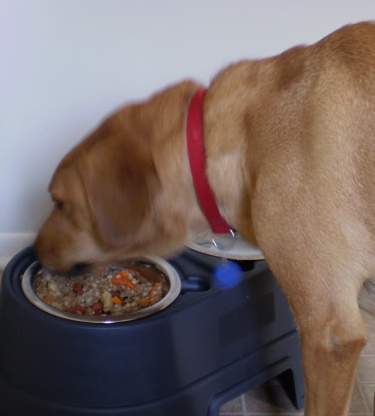 I have been making this recipe since the 1990s. It has been successfully served to at least 20 different dogs. It seems to appeal to them all. Fat ones lose weight. Thin ones gain weight. Even fussy and diabetic dogs will usually eat it. The recipe, when made as shown, is enough to feed about 30 kilos (or 66 pounds) of dog for a week. I serve this recipe once a day (in the evening) and add one large handful of hard food per 10 kilos (22 pounds) of dog. The morning feed is one handful of hard food per 10 kilos of dog. This recipe is based on a core approach given to me by a Chinese friend, Pamela, who always said tinned dog food was hard on a dog's kidneys—especially true, she said, for male dogs. The first dogs to enjoy this recipe each lived to 15 years of age. It's okay to leave out, short-change or substitute ingredients, but don't give dogs onions. The recipe form insists on an indication of servings, so I said 14 ( a serve a day for two dogs). This is the first recipe I ever submitted to Zaar. Hey, don't we all put our kids and dogs first?

I made a batch of this last week for my rescued dog, Rocky. He has been a fussy eater ever since we got him, sometimes not even eating for almost two days because he didn't like his food. I tried many brands of dry food, sometimes mixing it with canned, warming it up, etc. I think he was only fed table scraps before we got him because he would start barking and jumping up and down whenever we ate at the table. I made this food two weeks ago, and I can't tell you what a difference it has made at his mealtimes. He polished off the first bowl in about 2 minutes, and I've fed it to him every day since. I now mix it 1/2 & 1/2 with dry food and he still runs to his bowl right away and finishes it up. The single batch made enough for 6 large plastic containers. I put one in the fridge and the rest in the freezer. Rocky is 60 pounds, and this lasts him for 12 days when mixed with his dry food. It's economical, but best of all is I don't have to worry about Rocky anymore -- when it's his dinnertime he's in dog heaven. THANKS, Peggy for sharing this recipe!!! (BTW, I wanted to post the picture of Rocky because he eats this with such gusto that all the photos of him have a blurry head and dog tag. :)
2

lbs carrots

2

lbs potatoes
1⁄2 bunch celery (can sub zucchini when it's plentiful)

2 -3

lbs beef (cheap cuts of hamburger, mince, chuck or the like)
1⁄4 dripping (optional)

3 -4

chicken stock cubes (optional)

3 -4

quarts water (12-16 cups)

1

lb pearl barley, dried
If you are making the recipe as shown, before you start to prepare it, make sure you have a pot large enough to hold all the ingredients. A very large stock pot is great and essential.
Chop or slice the carrots, potatoes, celery and meat (other than minced meat) to a size that suits your dog.
Add the above ingredients to the pot.
Add the drippings, or soy sauce and stock cubes to the pot. If you don't make roasts, see if your neighbours will save their drippings. This recipe can be made without the drippings or soy sauce/stock cubes, but I think the doggies deserve this luxury. You can freeze drippings.
Add the water to the pot. You may need to reduce the amount of water. It will depend on the moisture content in the vegetables and meat. These days, I use about 12-14 cups of water.
Put the pot on the stove top, over a high heat.
Let it cook for about one hour.
Then -- assuming the mixture has come to a boil -- add the barley. Don't add the barley until the boil happens (it doesn't have to be a big rolling boil).
After adding the barley, cook for another 30-35 minutes (depending on what the barley package suggests.
This recipe really holds its heat, so let it cool for at least four hours before serving. Better still, make the recipe in the morning (weekends are good), then dish up the servings for the evening meal and let them cool all day.
Store in the refrigerator after completely cooled. Freezes well.