V.A.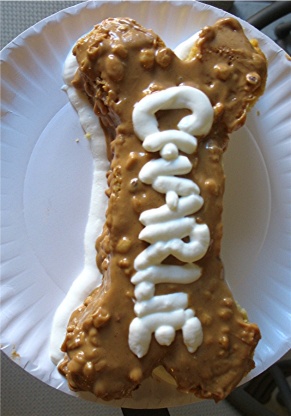 Recipe by V.A.
I found this recipe on Bullwrinkle.com, and our boy absolutely loved it! I baked it as directed, but used two small jars of beef baby food. After it was baked I trimmed it into a bone shape and "frosted" it with peanut butter... of course I had to put his name on it as well. I did my best to find out if this had been posted here before, but had a hard time... hopefully this is not a double post :)
I am in the process of making this right now. I didnt have any baby food so I used pumpkin and the dogs would not leave my side for anything while I was prepping it. I made it into cupcakes since today is our lab Stewie's 2nd Birthday and we are going to the dog park with them to meet some friends. I can already tell these are gonna be a huge hit and I will have to make them again next month for our husky Max's 2nd birthday. Thanks for sharing!
Preheat oven to 325 degrees.
Grease and flour an 8x5x3 inch loaf pan.
Cream butter until smooth.
Add corn oil, baby food, and eggs.
Mix until smooth.
Mix dry ingredients into beef mixture until batter is smooth.
Crumble beef jerky and fold into batter.
Pour batter into loaf pan.
Bake 1 hour and 10 minutes.
cool on wire rack 15 minutes.
Ice with plain yogurt or cottage cheese.
Store uneaten cake in refrigerator.