Dofu Cai Mian (Tofu Vegetable Noodle Soup, Two Versions)
Kathy228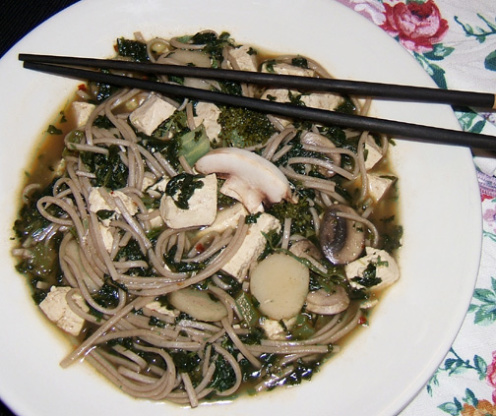 A warming, nutritious, and quick throw-together soup. Like a wonderful lo mein, but with less oil and in stock -- plus, this has a sweet-spicy and a hot-spicy variation here!

One of my favorite recipes to make a giant pot of and then eat for the rest of the week! (Just have to boil noodles every night.) I also did some substituting: bamboo shoots and baby corn instead of broccoli and carrots, and I'll often throw in whatever leafy green looks good, not necessarily spinach. And I mix spices and use soba for my noodle as well. But that's one of the great things about this recipe: you can throw in whatever you want, and it doesn't have to be the same each time! Highly recommended!
Bring stock to a roiling boil.
Add spices to taste. For a hotpot style soup, use ginger, garlic, szechuan sauce or chili paste, and chili oil. For a darker, sweet-spicy taste, use ginger, garlic, five spice powder, sesame oil, and some extra soy sauce.
Add noodles and cubed tofu, simmer a few minutes to allow flavors to blend and noodles to cook partway while you get vegetables together.
Add all vegetables, excluding spinach.
Simmer.
Add spinach, simmer until just tender.
Serve hot.