alligirl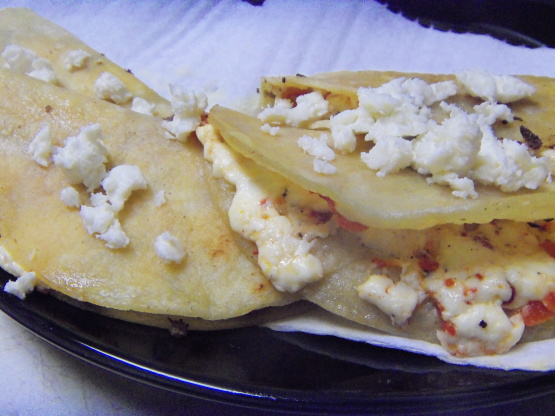 This makes a nice, light supper or lunch. Or cut into wedges and serve as appetizers. I'd even eat it for breakfast! Dobladas means folded and that's just what you do with the tortillas. If you can't find Farmer cheese(or queso fresco or queso de capas), use cottage cheese and strain in a cheesecloth for several hours in a cool place.

These were pretty interesting. I'd never used farmer's cheese before, and the texture is kinda crumbly, and it doesn't melt easily. I made a couple as stated in the recipe, and added a tablespoon or so of ground beef, for my meat-loving husband! Thanks for sharing, Sharon!
Mix cheese, pepper, onion, black pepper and salt(and garlic powder if using) together.
Put 1 heaping tablespoon of the cheese mixture on the lower half of a tortilla and fold over to make a half-moon shape. Press lightly.
Heat oil in skillet on medium high heat and fry until crisp and golden on both sides.
Drain on paper towels and serve warm. Serve with salsa if desired.
Enjoy!
Note:.
Many times it's served with cabbage, salsa, and queso on top (you can use the same cheese you put inside).