Prep 40 mins
Cook 35 mins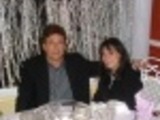 A delicious dish you complete in advance, freeze, then serve when time is limitied (like during the hectic holiday season). You can substitute 1 T. minced fresh herbs for each t. dried herbs required. Serve with a nice Chianti.
Directions
If serving immediately, heat oven to 350 degrees.
Make Tomato Sauce: Soak mushrooms in the warm warm until softened, 30 minutes. Drain and reserve liquid. Finely chop mushrooms.
Heat olive oil in medium saucepan over medium-low heat; add onion and garlic and saute, stirring occasionally, until soft, 10 minutes. Add wine and cook until almost evaporated. Stir in tomatoes, mushrooms and the reserved soaking liquid, salt, and pepper and cook over medium heat 10 minutes. Chop parsley with basil; add to sauce and simmer 5 minutes. Taste and adjust seasonings.
Meanwhile, cook pasta in large pot of boiling salted water until tender but still firm to the bite, 10-12 minutes. Drain and set aside.
Mix remaining ingredients except Parmesan in medium bowl, then stir in 1/4 cup Parmesan until blended.
Using soup spoon, stuff pasta shells with cheese mixture.
Place half the tomato sauce in casserole large enough to hold shells in single layer, or divide sauce among 2 or 3 smaller casseorles. Place shells over tomato sauce, then spoon remaining sauce over shells.
Sprinkle remaining 1/4 cup Parmesan over shells. Cover and bake until heated through, 12-15 minutes. Serve with additional Parmesan.
Or, let unbaked sauced shells cool to room temperature, cover tightly, and freeze up to 2 months. To serve, thaw covered in refrigerator, then bake as directed and serve with addtiional grated Parmesan cheese.
Most Helpful
Definitely take some doing to put this recipe together, but I did, & followed it right on down! I'm not a big fan of the mushroom, but when finely chopped, it worked just fine! I particularly like being able to freeze the shells in servings for 2, & we'll happily enjoy these great tasties for some time to come! Thanks for sharing the recipe! [Made & reviewed in I Recommend recipe tag]
I was plesantly surprised by this recipe; I am not a big fan of ricotta chesse, but this was great. I made a few adjustments based on our tastes and what I had; I left out the mushrooms from the sauce, used a shallot instead of the red onion and could not find Italian plum tomatoes so used Italian recipe stewed tomatoes. From the stuffing I used 2 shallots instead of 3, left out the spinach, and used scallions instead of chives. DH and I both thought there were too many shallots so I will use 1 next time. This made enough for dinner, 2 lunches and a whole other meal that I froze! Made for ZWT 7-THE HOT PINK LADIES.