Djemma El Fna Harira Soup
AngiC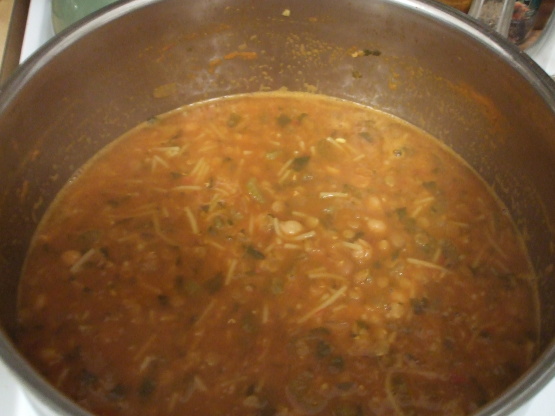 I just came back from Marrakesh and had to recreate the Harira I had in the Djemma El Fna market. I read about 20 recipes and used what I thought was the best of all of them, then used my tastebud memories for the rest. This is an extremely flexible recipe, and should be adjusted to suit your tastes. Don't be daunted, it is exceptionally easy! Harira is the soup that is traditionally used to break the fast each day during Ramadan. Note: the spice mix "ras el hanout" is a special blend of 15 - 35 spices created by each spice merchant to his own tastes. It is available to buy through various websites, or you might search the various ingredients and try making your own (I brought some home).

Very nice soup! I used two cups of chicken broth and six cups of water, and this still made six servings. The only other change I made was to add a few extra rose petals because I really like them in my ras el hanout mix. This was a very hearty and filling soup. Yummy! Thanks texcampbell!
Saute onions, celery, and garlic in olive oil on medium heat until soft.
Add all spices (except salt) and saute another few minutes.
Add lentils and saute another few minutes.
Add liquid and tomatoes.
When lentils are tender, add salt, can of chickpeas, and minced herbs (you can reserve some of the herbs to top the bowls when serving if you like).
Adjust seasonings to taste.
Add pasta and cook until done.
Add lemon juice and serve.