tsuskiko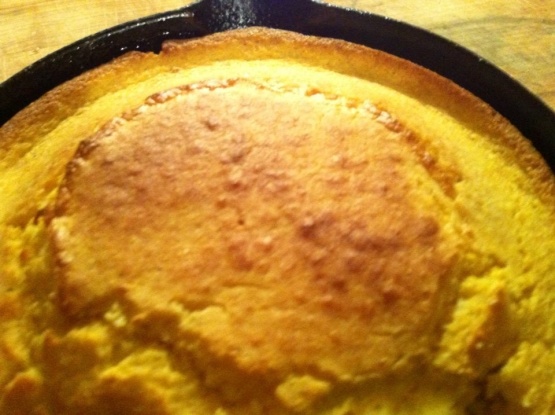 This recipe comes from the Aunt Jemima website. It is just the southern style that I have been scouring the web for. My mother's family is from Georgia so even tho I'm a yankee I grew up on real southern cookin! They are all gone now and I never got their cornbread recipe and I've got a cravin'! Tomorrow I will be making this cornbread.
Delicious corn bread, just the way it's supposed to be, with corn meal the main ingredient, not flour like so many on here seem to be. I made a pot of Hoppin' John and then this recipe into muffins and it was the best dinner. Only change I made was I added a tbsp of maple syrup for a just a hint of sweetness and because I love maple with corn bread :). Thanks for the awesome recipe Chef Caro!
Preheat oven to 450°F
Place shortening in 9-inch skillet with ovenproof handle or 8-inch square baking pan.
Place in oven about 3 minutes. Skillet will be very hot when shortening is melted.
While skillet is heating, in large bowl combine corn meal, flour, salt and baking soda; add buttermilk and egg, mixing well.
Pour batter into hot, prepared skillet.
Bake 22 to 25 mintues or until surface cracks and edges are light golden brown and pull away from side of pan. Serve hot with butter.
* As a substitute for buttermilk, add 2 tablespoons vinegar to a 2-cup measuring cup. Add enough milk to equal 2 cups.