Divinely Creamy Low-Fat Fettuccine Alfredo
Redsie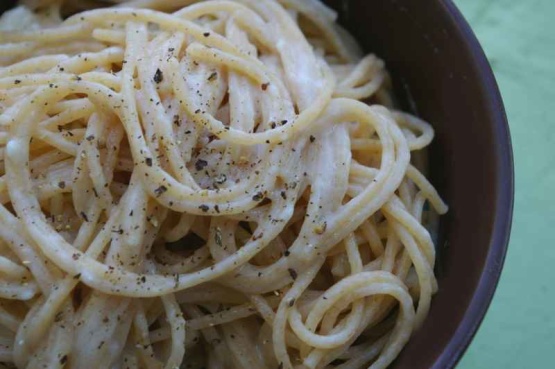 One of my favorite things to eat is fettuccine alfredo, but I don't always like all the fat associated with this dish. I found this recipe and it is really very good. Be sure to use imported Italian Parmigiano-Reggiano, which has an intense, buttery flavor that makes all the difference. If you are following Weight Watchers, this recipe has 6 points per 1 cup serving.
This is indeed divine and does not taste like it is low in fat. I did add garlic and shrimp, and I cut the lemon to 1/2 Tablespoon. It was excellent and I will make it again. Thx Lainey.
Cook the fettuccine according to package directions, omitting salt if desired.
Drain, reserving 1/4 cup of the cooking water.
Place the pasta in a serving bowl and keep warm.
Meanwhile, melt the butter in a medium nonstick skillet.
Add the flour and cook, stirring constantly, until the mixture becomes straw-colored and fragrant, about 45 seconds, then remove from the heat and whisk in the milk.
Return the pan to the stove, raise the heat to medium-high, and continue cooking, whisking constantly, until slightly thickened, about 2 minutes.
Add the reserved cooking water, the cheese, the lemon juice and nutmeg; stir until just smooth.
Pour over the hot pasta, toss gently to coat, and serve at once.