andrew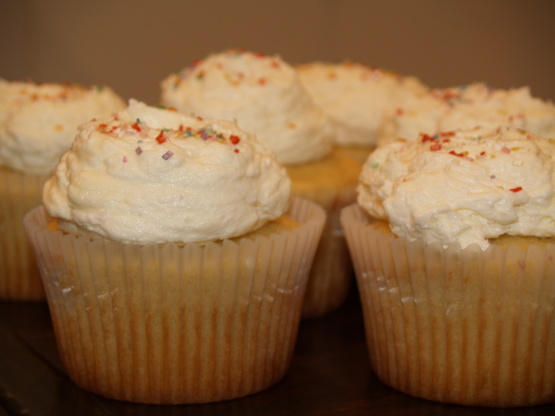 These cup cakes are little bites of heaven. Moist and super delicious. From 'Kitchen for Kids' they are great to bake along side little ones.

These were good, if a little plain. I made them and ran out of the house, so when I came back, I 'fixed' them up a little. They make a great base. I added some black cherry jam, and topped with a cream cheese frosting. I fixed one for DS by frosting with peanut butter and topping with pieces of a Hershey's bar. He just loved it! Thanks for sharing, Deantini.
preheat oven to 350°F.
Line 2 muffin tins with paper liners
Sift flour, baking powder and salt int a bowl and mix.
In another bowl cream sugar and butter, stir in eggs.
Gradually add milk and vanilla and spoon flour mixture in until all mixed and smooth.
Spoon batter into liners to about 3/4 full.
Bake 27-28 min until tops are golden and spring back or a toothpick comes out clean.