Divine Semolina Dessert - Suji Halva
awalde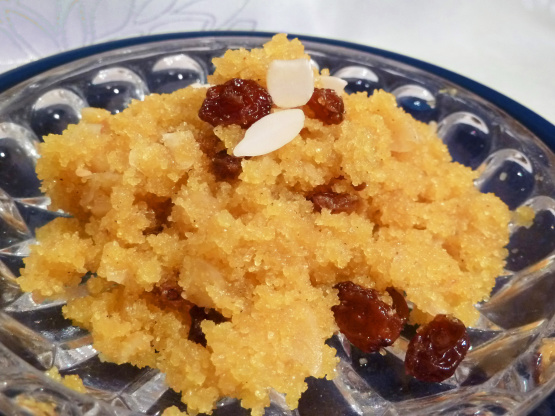 This is a recipe from Kurma Das, the world best vegetarian cook. I can vouch for this dessert, it is TO DIE FOR. To many aficionados of Hare Krishna cooking worldwide, halava rates on top of the list of their favourite dishes. It's hot, buttery, sweet, flavoursome and completely satisfying, especially on a cold winter's day. In this recipe, the humble semolina teams up with the world's two most expensive spices - saffron and cardamom. Enriched with sultanas and flaked almonds, serve fluffy, plump grained halava hot with cream, custard, or as is for an epicurian experience.

Top Review by awalde
We liked this dessert very much and my children were fighting for the last spoons!
I never had hot sweet semolina in this way and I liked the saffron and cardamon combination.
Thanks for the recipe.
Done for PAC Spring 2011
Combine the water, sugar and the soaked saffron in a 2-litre/quart saucepan. Place over moderate heat, stirring to dissolve the sugar.
Bring to the boil, then reduce the heat to very low and cover with a tight-fitting lid.
Melt the butter in a 2- or 3-litre/quart saucepan over low heat, stirring occasionally.
Add the semolina, and slowly and rhythmically stir-fry the grains for about 20 minutes, or until they darken to a tan colour and become aromatic.
Add the flaked almonds to the grains towards the end of the toasting process.
Raise the heat under the syrup, add the cardamom and the sultanas, and bring it to a rolling boil.
Raise the heat under the semolina for 1 minute, stirring continuously.
Remove the saucepan of semolina from the heat, and slowly pour the hot syrup into the semolina, stirring steadily.
The grains may at first splutter, but will quickly cease as the liquid is absorbed.
Return the halava to the stove and stir steadily over very low heat until the grains fully absorb the liquid, start to form into a pudding-like consistency, and pull away from the sides of the pan.
Place a tight-fitting lid on the saucepan and cook over the lowest possible heat for 5 minutes.
A heat-diffuser works well. Removed the covered saucepan from the heat and allow the halava to steam for an additional 5 minutes.
Serve hot.