Dive! Brick Oven Mushroom and Turkey Cheese Sub by Todd Wilbur
Nimz1466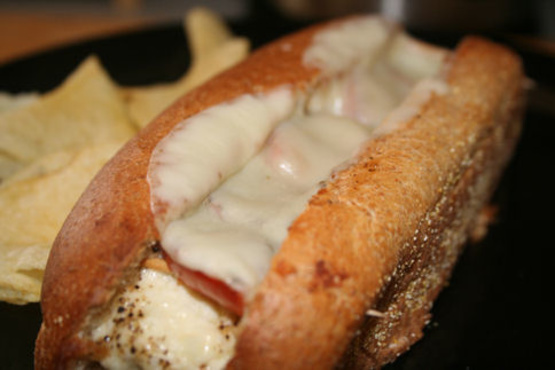 From www.TopSecretRecipes.com this is a favorite sandwich in the family. It take a little extra time to make the cheese sauce but it's well worth it. great toasted gooey sandwhich.

This is an excellent sub-sandwich. We loved the cheese sauce addition. I didn't have baguettes so used Wheat Sub Rolls that worked well for the two of us. One sandwich was enough to feed us both. I did top this off with the last homegrown tomato that my SIL gave me. I didn't cook the cheese sauce as long as stated because it started to separate. Cooked it about 5 minutes and that seemed to work. Excellent. Thanks so much for sharing. Made for My-3-Chefs Fall 08
To make the white cheddar sauce:.
Combine all the ingredients into a small saucepan over medium heat.
Bring the mixture to a boil, reduce heat and simmer for 10 minutes.
For sandwich:.
Preheat oven to 450.
Saute mushrooms in the butter. Season with salt and pepper.
Heat turkey breast in microwave until warm.
Split the baguette without cutting all the way through. Hinge the bread open and spread some of the cheese sauce on the faces of the bread.
Load the turkey into the baguette, salt and pepper it.
Pour the remaining cheese sauce over the turkey.
Spread mushrooms over cheese.
Bake the sandwich for 4 minutes. Put the swiss cheese on top and bake 2 minutes more, or until cheese is melted.