Disney's Canadian Cheddar Soup
Nimz1466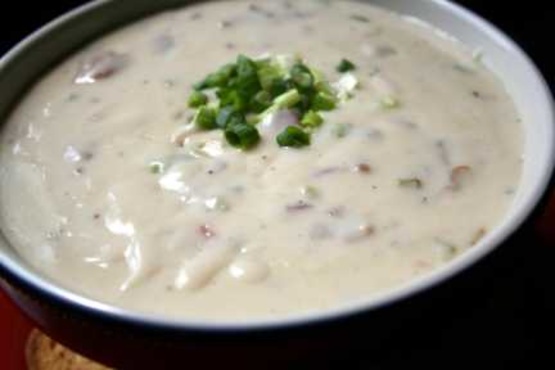 This is made at the Le Cellier Steakhouse in the Canada Pavilion at Epcot.

SPOT on recipe!!! My daughter just finished her internship at Disney and came home raving about this soup. I modified it a little bit to make it more like she said the original at Epcot.<br/>I fully cooked the bacon seperatly, I like it more crisp. I used a little of the bacon grease in the veggies.<br/><br/>Chicken Stock: I prefer the Knorr stock packages (like a little gel packet), it has a richer more velvety feel than canned stock. I add water to make the liquid amounts equal out. So I add one stock piece to the veggies and let it melt in, then half the water and put all of the veggies into a blender and puree them so they are smooth, then transfer back to the pot and stir in the flower and continue with the recipe as directed.
In large deep pot, cook bacon over medium heat for 5 minutes, stirring, until lightly browned. Add onion, celery and butter; saute until onion has softened, about 5 minutes.
Add flour and cook, stirring constantly, for about 4 minutes over medium heat. Whisk in chicken broth and bring to a boil for 1 minute. Reduce heat to a simmer; cook 15 minutes, stirring occasionally.
Add milk; continue to simmer 15 minutes. Do not bring to a boil.
Remove from heat; stir in cheese, hot pepper sauce, Worcestershire sauce, salt and pepper until cheese is melted and the soup is smooth. Stir in warm beer; if soup is too thick, add some warm milk.
Serve soup hot, garnished with scallions.