Parsley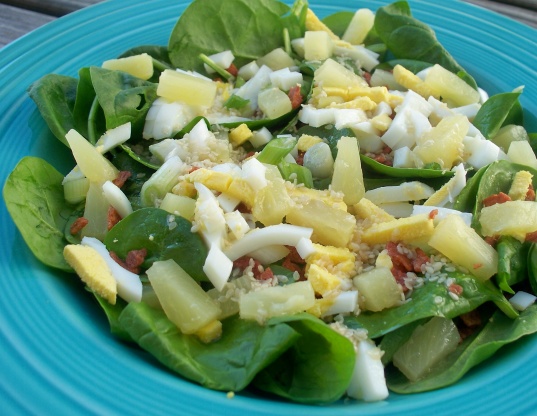 I don't know from where the name comes, but I can tell you that this spinach salad goes very fast. Very nice as a part of a light luncheon or a dinner party.

This was delicious - I was a bit skeptical of the ingredients, but the flavors when blended together are light and refreshing; the pineapple really makes this salad in my opinion, and the dressing was easy to put together (I used a pear white balsamic vinegar as I didn't have plain white wine vinegar). DH was especially happy with this salad - it's great for a hot summer's day. Thanks for posting - this one will go in the rotation. Made for Greens for Spring in the Diabetic Forum.
Prepare the dressing: Heat the salad oil in a skillet. Add the sesame seeds and brown. Add the remaining dressing ingredients and mix well. Transfer to a jar, cover, and refrigerate for several hours. Shake well before using. Makes 1 cup.
For the salad: Place the spinach in a salad bowl. Top the spinach with the pineapple and garnish it with the bacon, egg, and green onion. Just before serving the salad, add the dressing and toss it lightly.